B50

Vertical Bar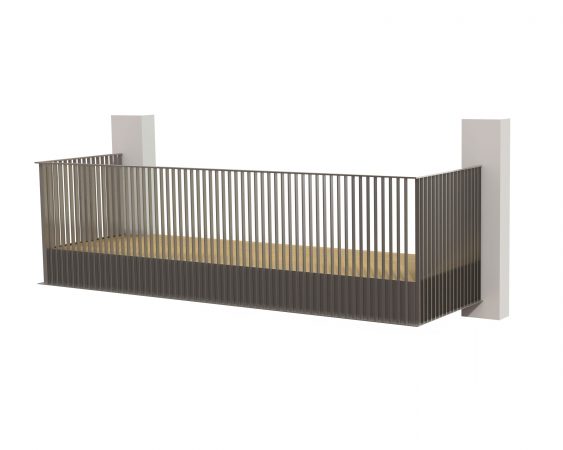 The classic aluminium flat bar balustrade refined for modern construction methods
Offering design excellence with unparalleled performance. This modular, lightweight balustrade system makes the perfect choice for residential and commercial developments.
Product benefits
Privacy: With aluminium vertical flat bars that enhance privacy without blocking out light, the modular B50 balustrade system provides an innovative and weld-free solution for balconies and terraces.
Lightweight strength: Its contemporary design has been structurally engineered for durability and strength, and it offers a lighter weight alternative to traditional solid welded steel so that it reduces imposed loads on balcony structures.
Quicker handling: Fast to handle and quick to install, the B50 with its wide vertical bars (50mm x 12mm) will create the perfect balcony in residential and commercial developments.
Robust finishes: Available in a wide range of aluminium powder-coated finishes which are less susceptible to corrosion than traditional steel.
Flexible: B50 is manufactured off-site and then delivered in modules. This system incorporates the bars and balcony fascia plate to provide a complete solution that minimises coordination challenges with other trades and contractors. Then each vertical bar is simply fixed firmly to the folded fascia plate with concealed fittings for the ultimate in contemporary style.
Request your B50 specification
Fill your details to receive your specification:
"*" indicates required fields