BA Systems B40 System features our frameless glass option. The system is a minimalist style which allows users to enjoy interrupted views. Our privacy screen range also offers the option to introduce frameless glass where the structural integrity is held within the posts.
As discussed, there are standards we must comply with when specifying this balustrade type. BS6180:2011 section 8.5.2 states '"Where the barrier protects a difference in level greater than 600mm, a handrail should always be used unless a laminated toughened glass construction is used that would remain in situ if a panel fails' when opting for no handrail on the balustrade system. This then gives scope for using a 'no handrail' option but is limited to the glass being toughened and laminated and able to withstand the load even if one of the sides of laminated glass should fall. Refer to BS6180:211 section 8.1.2 which states 'without a handrail each panel should be able to withstand the appropriate design load.'
Outlined in the following industry insight Comparing laminated and toughened glass; in most circumstances to meet the necessary building regulations, a glass panel for a Frameless Glass balustrade will be composed of a 10mm toughened glass panel + a 1.5mm interlayer + another 10mm toughened glass panel. These 3 layers would be laminated and bonded together under a high temperature to form the finished product. Balustrade systems with no handrail, glass infill and stainless-steel posts will require the glass panels to be specified this way and will take into consideration the handrail load needs to be applied to the infill as well as the infill loadings.
The specification of toughened and laminated glass is applied to ensure the glass infill can withstand the full loading as there is no longer a handrail to take any of the load; this is done through increasing glass thickness and composition.
Using toughened and laminated glass not only allows the balustrade to successfully meet required building standards but also provides safety benefits. If one panel smashes, the interlayer will hold the majority of the particles in most breakages ensuring the barrier to the balcony edge remains in structure minimising the danger. This is discussed in more detail in Comparing laminated and toughened glass; SECTION 3.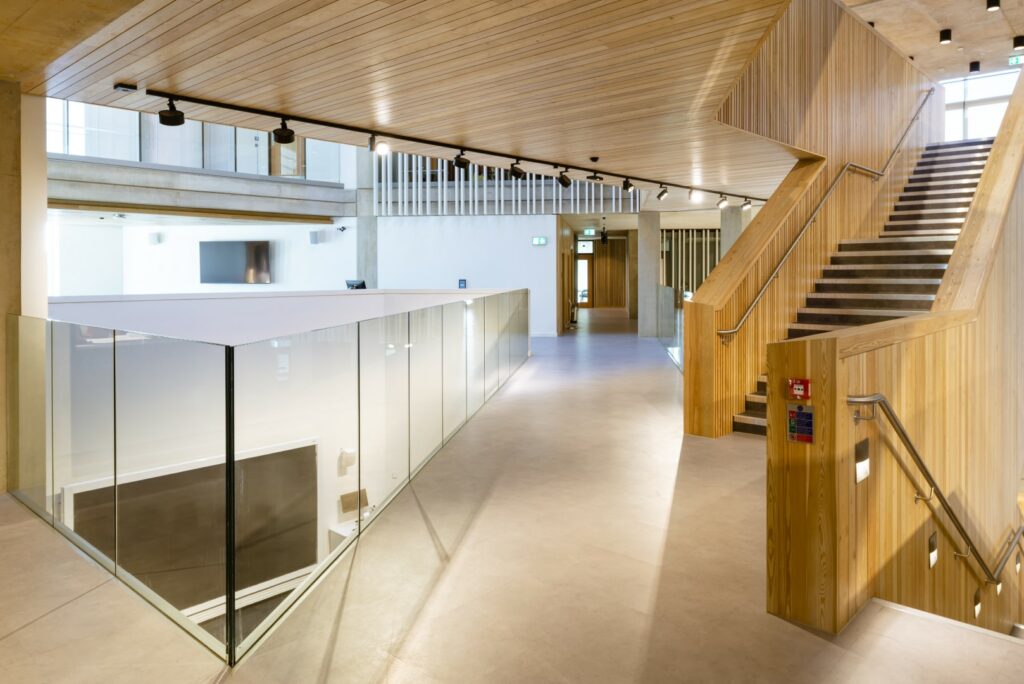 In summary, the recommendations for the balustrade specification to mitigate risk when using no handrail and ensuring the load requirements are maintained are as follows:
Infill must be specified as 21.5 toughened and laminated glass able to withstand a 074kN/m loading (based on standard 1.1m balustrade)
Infill specified as 25.5mm toughened and laminated glass to withstand 1.5kN/m loading (based on 1.1m high balustrade)
If specifying 'Increased height balustrades' there are further factors to consider as this may increase the glass infill specification and also the wind load considerations. Decisions around the specification of balustrades above 1.1m high should be discussed with the supplier in the context of the project.
To understand the glass interlayers available, this is discussed in our industry insight here; Comparing the 2 main glass interlayers; PVB V SGP
This guide only covers balustrades applied to balconies, terraces and voids. To be compliant all stair or ramp balustrades must be specified with a handrail.
---
BA Systems provides a full and comprehensive design, manufacture and install service of our balustrade and handrail products and systems.
Find out more about us on this link here or contact one our technical consultants for no-obligation advice on how to correctly specify balustrade systems for a wide variety of sectors and applications.
Back to blog