Before exploring the interlayers in detail, it is important to understand the composition of laminated glass for balustrades. In most circumstances, in order to meet the necessary building regulations, a glass panel for a Frameless Glass balustrade will be composed of a 10mm toughened glass panel + a 1.5mm interlayer + another 10mm toughened glass panel. These 3 layers would be laminated and bonded together under a high temperature to form the finished product.
---
The 2 main types of interlayers are:
Polyvinyl Butyral  l (commonly known as PVB)
Ionoplast, SentryGlas (commonly known as SGP).
PVB is by far the most commonly used and specified interlayer for a wide variety of applications in construction. This is primarily because it is a compliant and cost effective product. However, the newer SGP interlayer is marketed as a product that offers 5-times the tear strength and 100-times the rigidity of standard PVB. This means that in the unlikely event of both panes of toughened glass breaking then the SGP will, in most applications, hold the glass in an upright position. Comparatively, if both panels of glass smashed with a PVB interlayer (it is very important to understand that this is an extremely unlikely occurrence) then the interlayer would not hold the panel in an upright position.
The following chart compares the interlayers: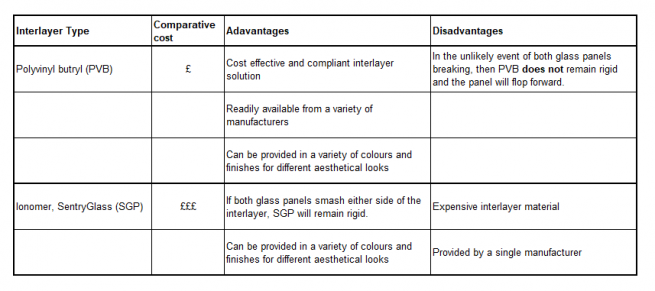 To illustrate the effect of these interlayers in more detail, the below video shows a 69 kg-m impact on a 12.7mm glass panel with a 1.52mm PVB interlayer and then a 0.89mm SGP interlayer:

Credit to Trosifol – www.trosifol.com/business/media/videos/balustrade-testing-videos/
---
BA Systems recommendations:
Whilst SGP offers obvious benefits, it is sometimes outside the budget of many projects. To ensure that laminated glass is as widely available as possible, we recommend that a PVB interlayer is adequate for most resedential, education, leisure and commercial projects. To verify this, we have conducted our own 'swing-bag test' using a XXkg weight on our typical B40 Frameless Glass balustrade. The product used is 21.5mm glass with a 1.5mm interlayer secured in an aluminium base channel. The result is that the balustrade integrity is not compromised and the barrier is effectively maintained.
Please contact us for a more detailed report or further specification advice – T: 01603 722330 E: specifications@basystems.co.uk.
Back to blog