---
1.Laminated Glass 
Glass is a very popular infil for balustrades in schools mainly because of its ability to give higher visibility of student movement. However, if glass is used on balustrades, it must break safely. This means that the broken shards must not be sharp or pointed, which is particularly important in areas of high traffic like schools.
This can be achieved with toughened glass, sometimes referred to as tempered glass and is four to five times stronger than ordinary annealed float glass and, if broken, disintegrates into small fragments with dulled egedes that are unlikely to cause serious injury.
Laminated glass will also fulfil this requirement for glass break safety. Laminated glass is constructed of two plies of glass which are bonded together with interlayers to form a permanent bond. Laminated glass is held together by an interlayer, typically of polyvinyl butyral (PVB),  Lonoplast, SentryGlas (SGP), ethylene-vinyl acetate (EVA), or Thermoplastic Polyurethane (TPU), between its two or more layers of glass. The two main interlayers: PVB and SGP and are outlined in one of our blogs here.
As outlined in Approved Document K , laminate glass is the optima solution for break safety as the laminate interlayer will maintain the glass barrier and the broken glass particles will be held in place until the panel can be replaced.

---
2. Timber in Schools 
Whilst timber can look good as a material for handrails, it can lend itself to damage in areas of high traffic, such as schools where people are using the stairs regularly. Wooden handrails are fixed together using straight joining bolts, the bolt is runs through the centre of the wood to fix each section together and where the handrail bends at an angle a half mitre joining bolt is used. The implications come where the handrail is hit by the constant high traffic and becomes loose at the joints causing the handrail to loosen or in some instances come apart, making it unsafe. As shown in the image below: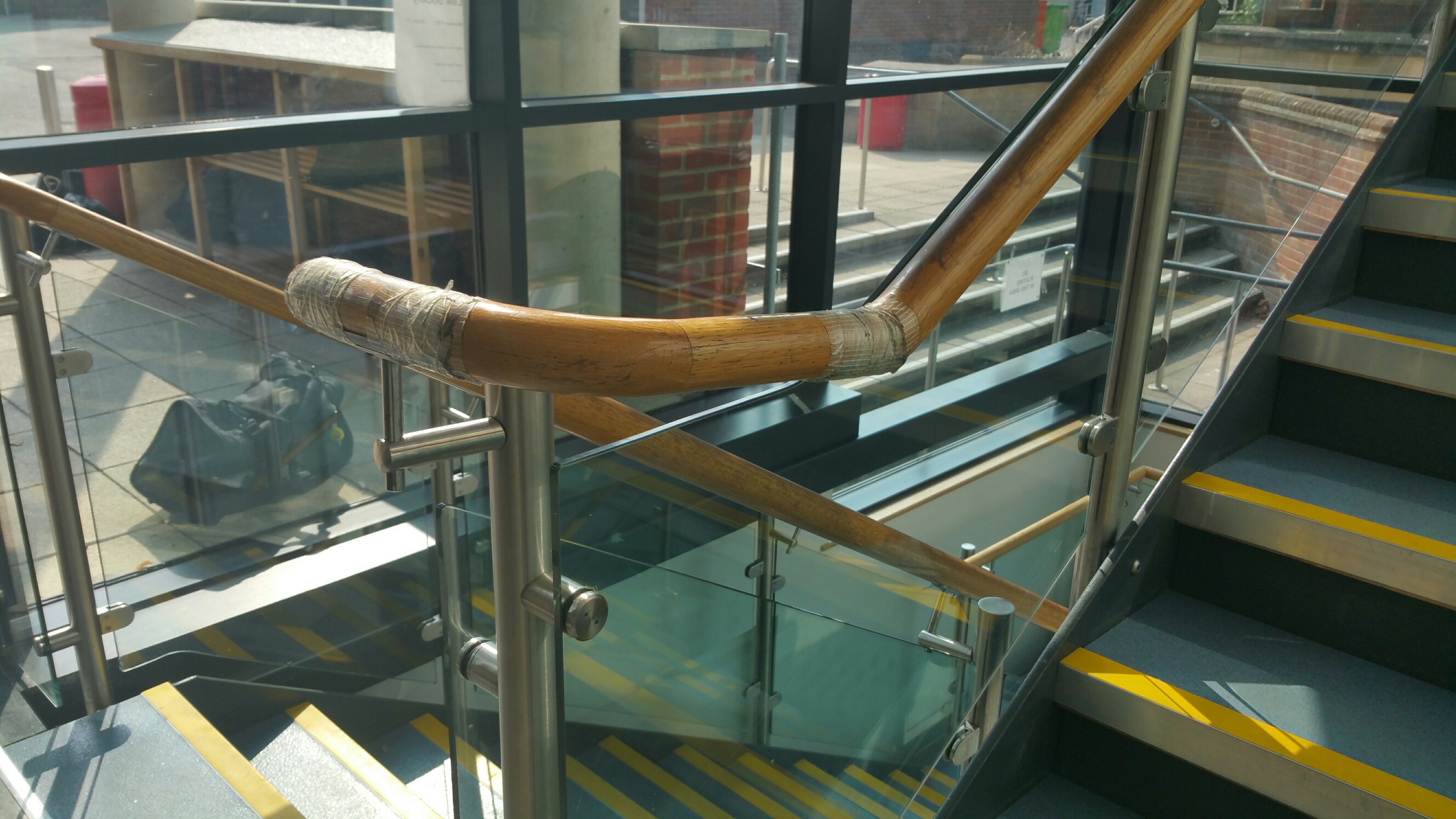 The preferred material for handrails in schools is Stainless steel (304) or (316) if in a marine area and this can be finished in a powder coat to any colour.
BA Systems can also now offer VBA99 as an antimicrobial solution for handrails in schools.  VBA99 is a metal copper alloy that has been tested by the University of Southampton and proven to kill 95% of all bacteria and viruses within 10 minutes of contact with the surface and entirely within 1 hour! VBA99 is therefore well suited to public environments like schools where handrails are frequently touched.
---
3. Bolt through clamps 
With early engagement in our projects, we can provide detailed design input well in advance of final design to ensure fixing details are considered and suitable to the substrate upon which they will be fixed.
Fixings should comply with the minimum requirements of BS618
We recommend bolt through clamps for fixing glass infills as a safety precaution. Traditional clamps may lead to glass slippage over time, which can present both a high risk safety issue as well as cost implications as the glass will need to be replaced.
Bolt through clamps need to be anchored to a solid load-bearing substrate which can be anything from a concrete floor, slab to brick, metal or wood.
---
4. Non-climbable
Balustrades must be designed to prevent students from climbing up towards the handrail, particularly where users include children under 5 years of age.
You should avoid horizontal rails (Images below)  in balustrade design; any opening should prevent a 100mm sphere to pass through (this does not apply to the triangle formed by the tread and riser, except in dwellings and flats)
Detailed guidance is available in CP BS 6180:1999 Barriers In And About Buildings. This  British Standard provides recommendations for the design and construction of temporary and permanent barriers to be provided in and about buildings and places of assembly, such barriers being positioned and designed to protect persons from various hazards and to restrict or control the movement of persons.
5. Height of balustrades 
As outlined in Document K, there are specific regulations for balustrade heights in schools.
Balustrades should generally be a minimum of 1100mm from finished floor level. However, larger heights should be considered in relation to the environment.
In schools with pupils ages 12 or under, The department for Children, Schools and families (DCSF) prefer an additional lower handrail, say at 600mm for infants and people of small stature. Second handrails should be provided in primary schools. This second handrail should be positioned at 600, from the pitch line or floor.
---
This guide is a summary of some key points for consideration when specifying balustrades and handrails in schools.  It is based on our own interpretation of the requirements and it remains the responsibility of clients to satisfy and comply with local legislation. For more detailed advice on these regulations or any other current standards, please contact as on +44 (0)1603 722330 or specifications@basystems.co.uk.
Back to blog