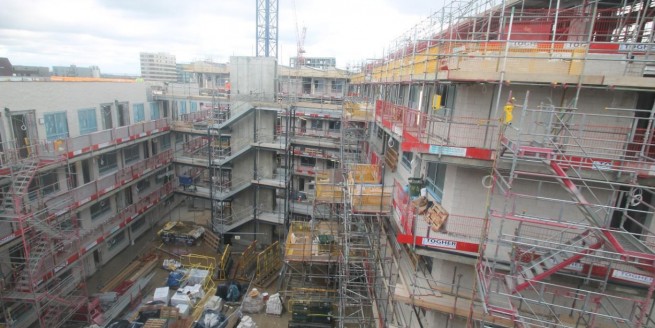 Challenges of the project
Serious programme concerns on the balustrade package
Design details to be developed
Attractive product required that met important fire regulations
BA Systems and Willmott Dixon have been faced with a number of challenges in delivering the Gatefold project for Willmott Dixon's private rental development arm, be:here.
At procurement stage, Willmott Dixon were faced with an unforeseen situation with the previous balustrade contractor, only weeks before they needed them on site. This left a scenario that could have delayed the whole timeline success of the project.
In addition to the timeline concerns, there were important design details that still needed to be developed to meet the significant building control milestones and fire regulation requirements. This left a conflict where the essential edge protection element was needed in a very short time, without compromising the requirement for a quality balustrade product, to compliment the attractive building.
The BA Solution
Working closely with the architects and the Willmott Dixon design team, the balustrade fixing details were developed, simplified and agreed at an early stage to ensure that flow would not be hindered during the installation phase. BA Systems provided the solution with their B30 Frame & Infill panel balustrade system, as a product that would fulfill the design requirements, as well as guarantee maximum project flow.
With just under 1500m of aluminium extrusion for the B30 system needed, BA Systems identified the requirement for a new semi-automatic saw to further enhance the flow when the project began. This investment meant that a consistent finished product could be achieved without compromising the speed of the installation.
Key achievements
Installation began in November 2015. By the end of January just under 40% of the project had been installed.
An average of 52m of the B30 system are being installed each week.
Flexibility is being demonstrated in the ability to respond to changing site conditions and requirements.
Back to blog