The amendment gives detailed regulations on improved fire safety measures, specifically for buildings over 18m in height. The amendments also go as far as to ban certain products that are perceived to be combustible and therefore do not achieve the fire rating required. Included within this ban is laminated glass used in balustrades. We have previously published some views on this change and can be identified on this link here
This ban on laminated glass to high-rise buildings has caused a huge impact on the design and construction of balustrade, for new developments.
Further clarity is being sought on this 'ban' and investigations are being made with tests being conducted, to prove that balustrade laminate does not pose a fire risk to external facades. 
However, there is currently no indication to suggest if or when this specific 'ban' will be reviewed, leaving many projects in stalemate for the time being with the need for alternative, quality, balustrade solutions. We have previously published articles on some alternative, non-combustible, balustrade options here that we can assist with.
---
Is Powder Coated Aluminium Combustible?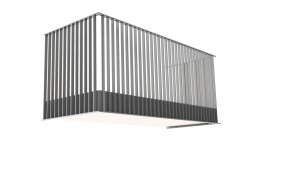 As set out in a previous post here, there are significant advantages in using aluminium for balustrading (as well as cladding & other façade components), on building facades & balconies, with another big advantage being that aluminium is non-combustible.
As denoted by BS476 part 4, aluminium alloys are non-combustible, part 7 Surface Spread of Flame 'Class 1' and part 6 Fire Propagation 'Class 0'. In fact, when aluminium is exposed to fire/intense heat it will begin to melt ONLY, when the temperature has reached the metal's melting point rather than burn. Most aluminium alloys have a melting point between 600 and 660 degrees Celsius. The natural finish and surface quality of aluminium means that in a number of applications, it can be used without any finishing required. However, to achieve an acceptable finish to a building's appearance and improve aluminium's inherent resistance to corrosion, the material normally needs to be coated/finished. There are a number of ways to finish aluminium including Anodising & Pre-Coat (PVDF), however the most cost effective and practical finish commonly specified & used is polyester powder coating (PPC).
So whilst the base material aluminium is non-combustible, it is clearly essential that any finish applied also fully meets the requirements set out in the current building regulations.This means that any material used, must achieve either an A2-s1,d0 (limited combustibility) or A1 (non-combustible) classification. As a result, concerns have been raised as to the potential combustibility of PPC, so it is essential to establish that any PPC product used, meets the above rating.
Here at BA Systems we use Akzo Nobel Powder Coatings, unless otherwise specified. Their Interpon D series, boasts a track record of over 30 years and as per their fire test report AN UK Fire Test Results document- May 2019 which meets the criteria for building regulation approval. Further information on the fire performance of polyester powder coating is available from Akzo Nobel as show in the video below:
The case study shown at the end of this video is a project we completed for Anthology which detailed the design, supply and installation of our B50 Extruded Aluminium System view our full case study here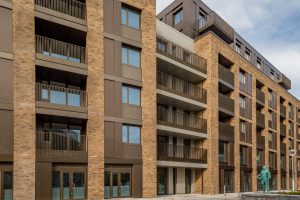 Our balustrade systems are bespoke, to each building design. The overall design of the system, within a building's façade, is unique to each project application and must be reviewed over all to ensure regulations are met.
Back to blog