---
Aluminium is like an energy bank. Once it is produced, it can be reused infinitely, and reusing post-consumer aluminium scrap has a very small carbon footprint with approximately 70% of aluminium that has ever been produced still in circulation. Aluminum used by BA Systems is approximately 80% recycled material and every kilogram of waste or of end-of-life material is 100% recyclable.
Post-consumer scrap has already lived a "life" – maybe in a window frame or a can – and now it has been recycled to be turned into something new. Pre-consumer scrap is typically scrap that comes from the production process and hasn't been used. The most CO2 efficient aluminium products are the ones made from post-consumer scrap. The average life of an aluminium drinks can is approximately 60 days before 100% of it is back in use again.
An aluminium extrusion is on average 15 to 20 years old when it is discarded. After recycling, this aluminium gets a second life. But the remelting process only adds 5% of the initial energy used to produce the primary aluminium. The aluminium does not lose any of its properties during the recycling process.
Recycling 1 ton of aluminium compared to producing 1 ton of new aluminium saves 6 tons of bauxite and 9 tons of CO2. Globally the recycling of aluminium saves more than 100 million tons of CO2 per year.
Figure 1:  Life Cycle of Aluminium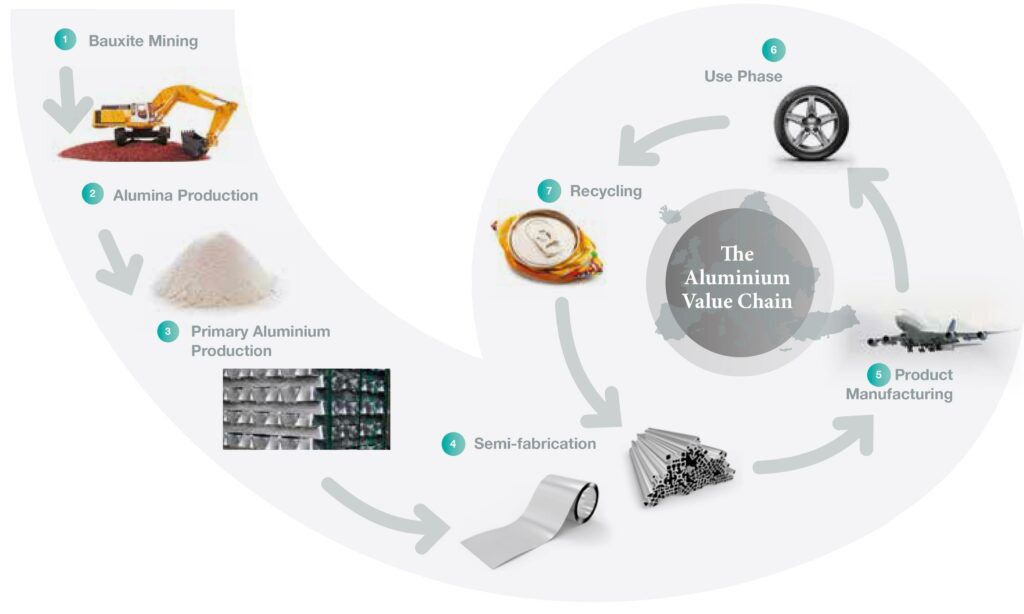 In addition to the huge low carbon benefits of specifying and using B50 aluminium in balcony balustrade systems, the metal has the added advantage of being approximately 2.5 times lighter than steel. This advantage helps to reduce the added carbon impact of transport, handling and general logistics compared against mild steel.
The unique design of the B50 extruded balustrade system means that the system is mechanically assembled and not fabricated from steel with its unsightly welds. Because of the malleability of aluminium and the way it is manufactured ensures that a powder coated finish is far smoother and more consistent than the equivalent product in mild steel.
Figure 2: B50 Vertical Bar Balustrade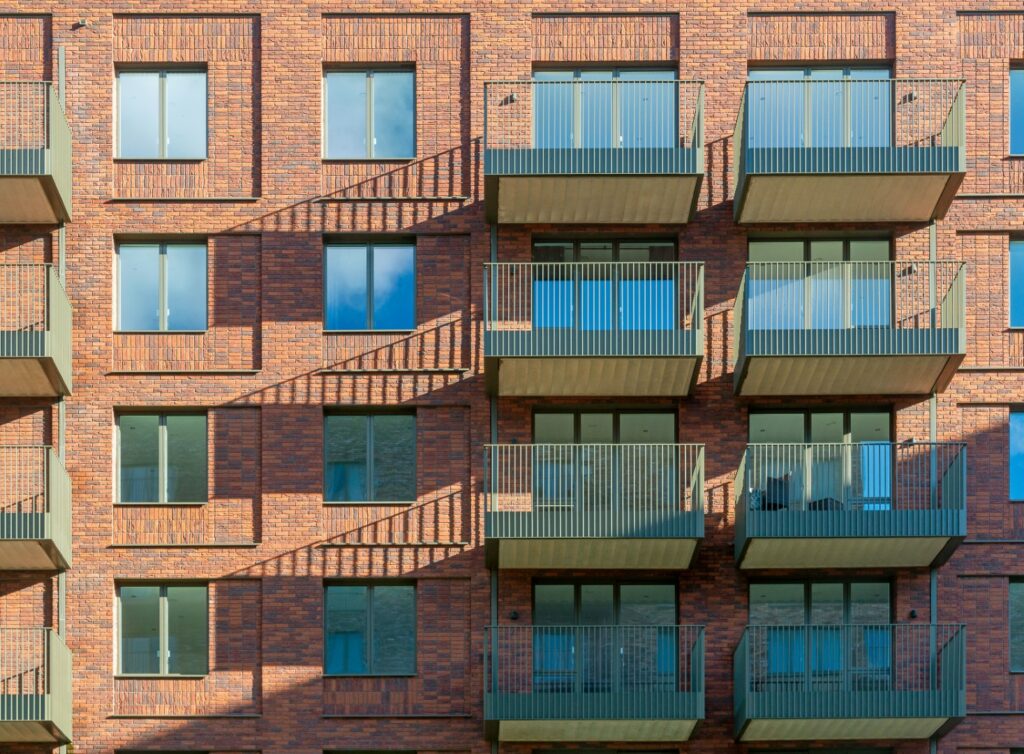 Typically, a welded mild steel balustrade will have to be pre coated before powder coating, either by hot dip galvanizing, thermal spray galvanizing or by applying a primer coat prior to applying the topcoat of powder coating. In most cases the galvanizing processes are not carried out at the same premises as the powder coaters which obviously involves additional supply chain carbon impact, not to mention the additional cost as well. These additional processes are essential because of the corrosive nature of mild steel.
In contrast to this, aluminium is prepared, and powder coated always in one location and the process involves far less total energy consumption than powder coating mild steel. Aluminium does not corrode in the same way as steel and the metal provides excellent adhesion for a powder coated finish with greater longevity.
In summary, it is important to recognise the environmental benefits around using aluminium in Balustrade Systems as opposed to less sustainable materials such as mild steel. As discussed, this is mainly due to its recyclable credentials and the reduction in energy use during its production, particularly when powdercoated.
With this in consideration, B50 is the perfect lightweight, modular solution we can offer to Architects, Specifiers, and Contractors looking to procure Balcony Balustrades in line with the Global Targets to reduce emissions. You can read more about our Environmental Targets on the following link; here 
---
Back to blog