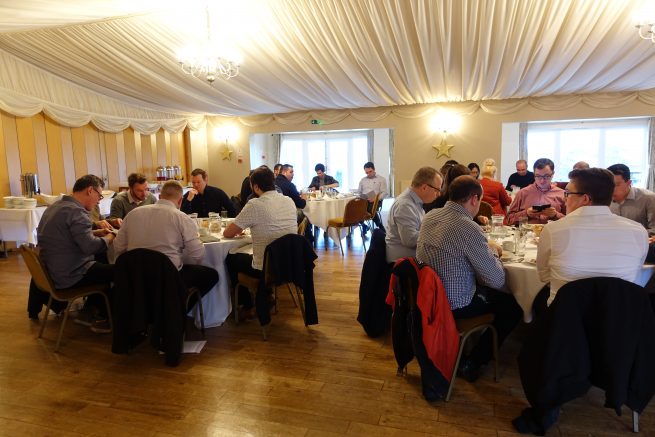 In view of continuing to add value to construction developments across the UK, the BA Systems team arrived at Wensum Valley. The purpose of the day was to discuss strategic goals, innovation, design and product development. The previous two years at BA Systems have shown record achievement and we are so excited to be able to continue this in the future.
To make the most of a full day at Wensum Valley, the team arrived early and were greeted by a delicious full breakfast, what a fantastic motivator for the day! The directors then handed out the agenda for the day, which included a financials talk by Robert Hynd, Health and Safety / ISO talk by Stephen Hynd and Ben Hynd, Team Goals (focus discussion in groups) and a Team Building activity by Craig Dodsworth and Jim Deans. The aim of the talks ensure all staff are keeping up with the company culture, team bonding (ensure staff are mixed up and work with people outside of their teams) and also to give option for staff to ask questions about current procedures. At BA Systems we believe this is what helps us strive to achieve and continue to grow as a company.
Craig and Jim organised a team building exercise relating to trust and communication. The teams were divided up, ensuring that staff from all teams were mixed, enabling different departments to work together. The aim of the game was to complete the course in the shortest time, with each team member being blindfolded. The timer started when the first person in the team started and stopped when the last team member finished. This showed a huge amount of trust and teamwork at the same time and really showed that communication is key, alongside being able to listen to someone else when you have no control.
The Game: Team Building
Chairs set up with a walkway, with a piece of paper at the end. (Aim: for the blinded teammate to be guided through the chairs by another teammate without hitting the side).
Obstacles set up for each blindfolded teammate to be guided through them without touching the sides. Including; cones, stacking pots, going through a hoop and stepping up and down a chair, all whilst holding the marble and dropping it in a pot at the end!
Teams:
 Eloise Taylor, Phil Cooling, Stephen Smith, Robert Hynd, Dariusz Aniol and Brenda Taylor
 Darryl Snipe, Ben Hynd, Antony Hynd, Mark Folds, Tommy Smith and Neil Bridger
 Adelaide Ottaway, Daniel Gibbs, Damien Wojechowski, Rod Gritten, Matthew Woodgett and Jon Pelger
 Amy Hynd, Kevin Sayers, Stephen Hynd, Greg Hynd, Russell Briston and Andy Bell.
All teams put in a fantastic effort, all coming in a close proximity of each other. Team 3 were the winners, although each team managed to communicate each player through the game, well done Jim and Craig for organising this!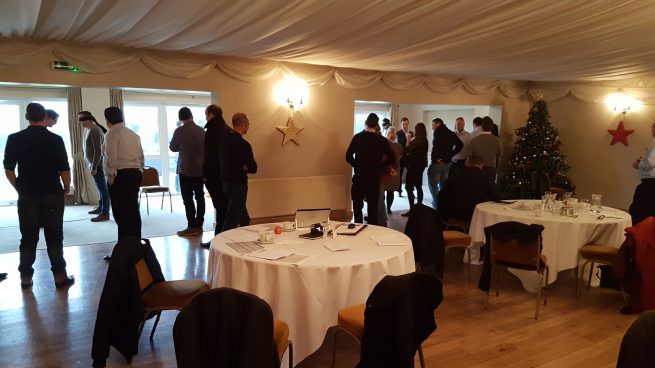 Back to news