Following an increased awareness in Health and Safety on Construction sites, BA Systems are encouraging all staff to gain CSCS cards and understand the importance of Health and Safety.
There are many tests which are available to be taken, mainly through Construction Skills Certification Scheme (CSCS) and in order to visit a construction site, or work on a construction site, you have had to have passed a Health and Safety test and received your card as proof you are eligible to go on site. With a few of the team having near expired cards, there have been a few tests done in order to gain the revised card. Mark Folds and Kevin Sayers, our project surveyor, recently completed their Manager and Professional tests, both getting a top score of 100%.
With harder and an increased number of questions, Mark created a short test in our Monday Morning Meeting, putting the office and workshop staff up to the challenge… There was a high number of correct answers, however, on one particular question, the team could not understand how the correct answer, was in fact the correct answer…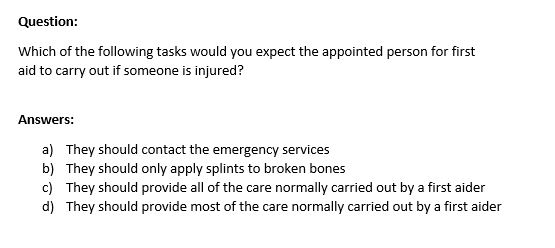 ---
Can you understand why there was confusion within the team? The correct answer was in fact a) contact the emergency services. What percentage of BA Systems staff got this question right?
a) 10%
b) 0%
c) 80%
d) 10%
With almost all of our staff having CSCS cards, it just shows how important it is to keep refreshed and up to date on Health and Safety. This will definitely be a learning curve and will ensure we keep up with these tests to keep the BA Team on their toes and in the know of the latest laws, rules & restrictions on construction sites.
---
Back to news